EconSys worked with the US Department of Labor (DOL) Women's Bureau (WB) to conduct a statistical study of the progress of African American Women in the U.S. labor force. Using data from the Decennial Census dating back to 1920, the study modeled policies and practices for future employer use.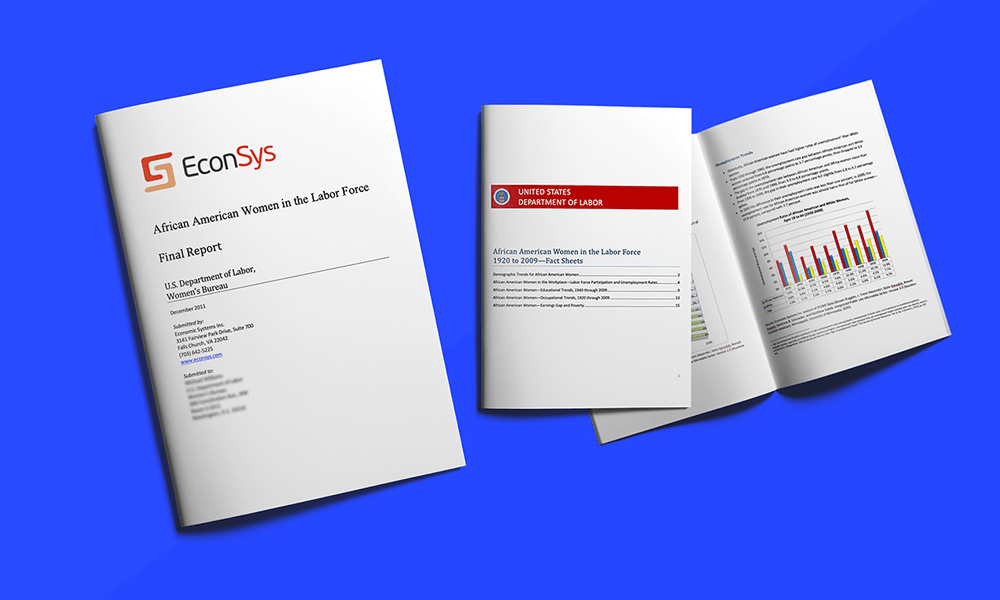 The project consisted of a comprehensive literature review, development of a white paper and several fact sheets, and presentation of the materials to key stakeholders in DOL. The duration of the project was approximately one year.
Why Did the Department of Labor Women's Bureau Choose EconSys?
WB sought a partner with experience in quantitative analysis and actionable reporting, and in working with DOL on comparable projects. EconSys had worked with both WB and the Office of Disability Employment Policy (ODEP) in previous engagements. Competencies included:
Quantitative analysis

Trend analysis

Best practice and policy reviews
With significant combined experience in the field, EconSys leveraged the newest technology and resources available to produce interactive analyses and reports that provided a greater level of understanding.
Our Solution
The project was completed in one year, and a final report and presentation delivered for DOL and WB stakeholders outlining actionable takeaways and policy models for future implementation. It included:
Insights for Employers

 – Best practices, model policies, and key insights were delivered for use by employers seeking to improve hiring and retention rates.

Communication tools to streamline the back and forth between supervisor and specialist.
Key Research Findings

 – Fact sheets were prepared to summarize major research data points. These were later distributed by WB on their website.

Employment Related Trends

 – Trends related to education levels, occupational paths, and labor force participation rates were evaluated in the reporting.

Next Steps for Decision Makers

 – A series of recommended actions based on the study's results were provided in the final presentation.
Upon completion of the study, EconSys produced a summary white paper, several fact sheets for public distribution, and a presentation for internal review. DOL and WB were highly satisfied and later engaged EconSys for a similar project to evaluate target career pathways for Immigrant Women.
Download the complete project summary to learn more.