In the recent report detailing the retirement claims processed in the month of October, the Office of Personnel Management (OPM) announced the number of claims processed decreased significantly from the total processed in September. While the number of new claims received declined from 7,456 to 7,044, the backlog increased to 17,882, and rise of nearly 3% from September's low water mark for 2019. This comes after a significant increase in the retirement application backlog early in 2019 that decreased for several months through the summer.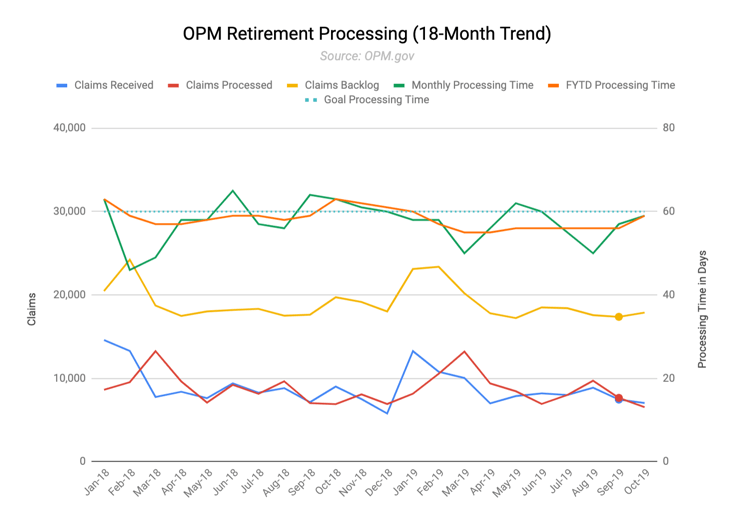 The total number of applications in the backlog is still lower than the same month in 2018, representing a 9.3% year over year decline. However, the number of claims processed was only 6,538 – the lowest number in the last twelve months and 5.6% lower than the same month last year. For the first time in several months the FYTD average processing time in days increased from 56 to 59, the highest number since January 2019 but still below the 60-day target.
The numbers reported for October are not a significant change from the previous months. However, they do represent the first substantial negative change in the number of claims processed in several months. The lowest backlog total in the last two years remains December 2017 when it dipped to 14,515. The high-water mark in that time period was 24,225 in February of 2018, after the annual surge that occurs around the beginning of the year. That number is still well below the all-time highs seen in 2012.
Read more about the ongoing challenges OPM has faced in addressing the retirement processing times as outlined in a recent US Government Accountability Office (GAO) audit and report. You can read the full report here or our summary blog post that highlights the key areas that have been identified that OPM needs to work on.