The Office of Personnel Management (OPM) released an updated report detailing the number of retirement claims processed and new ones received during the month of September. In the report, OPM indicated a decrease in the number of claims received to 7,456 (comparable to the amount received in September, 2018), and a decrease in the number of claims processed to 7,656. This represents a decrease in processed claims of 21.19%. Combined with the drop in new claims, the result is a 1.1% decrease in the backlog size, effectively remaining the same month over month.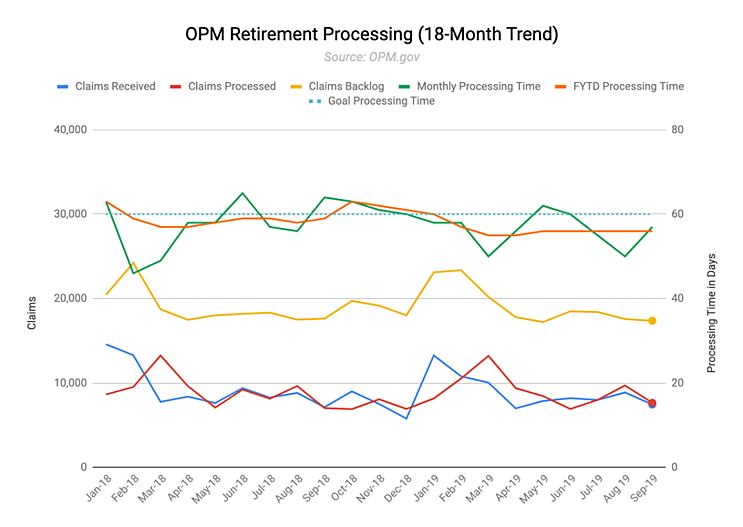 There are currently 17,376 applications in the backlog after OPM received 7,456 new applications and processed 7,656 for the month of September. After the significant increase in processed claims in August, this represents a drop more in line with the number of claims processed in June of this year or September and October of 2018. The average time to process increased back to 57 days, an increase of 7 days from August and 2 days from July. The FYTD average processing time in days remains consistent with the 56 days reported in the previous four months.
The numbers for September are a change from the last two months of significant increases in the number of claims processed but are close to the numbers posted year over year, indicating a slowdown in activity in the fall. The lowest backlog total in the last two years remains December 2017 when it dipped to 14,515. The high-water mark in that time period was 24,225 in February of 2018, after the annual surge that occurs around the beginning of the year. That number is still well below the all-time highs seen in 2012.
Learn more about some of the recent recommendations that the US Government Accountability Office (GAO) prepared in a recent audit of OPM's retirement processing times and efforts for improvement in a recent blog post summarizing the report. You can also read about the benefits of IT modernization to improve processing times for federal agencies.