The Office of Personnel Management (OPM) recently released its monthly report summarizing the number of new retirement applications received and processed and the average processing time through June. For the second month, the number of applications received increased and the number processed decreased, resulting in a 7% increase in the backlog.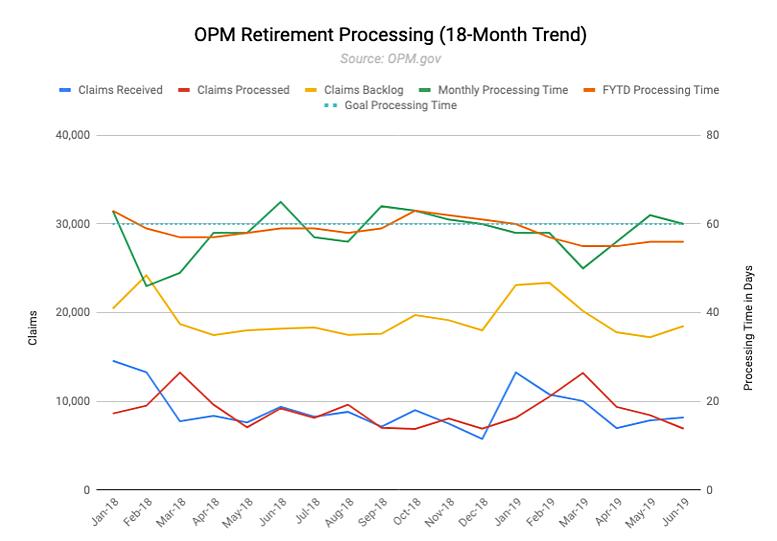 There are currently 18,501 applications in the backlog, an increase of 1,273 from May and June. The lowest total reported thus far in 2019 is 17,228 in May. Year over year, June's total is only slightly higher than the backlog in 2018, but the number of applications processed is the lowest so far this year.
The current average processing time in days is 60 while the FYTD averaging processing time in days remained consistent from May at 56 days. OPM's goal for processing is 60 days, so current processing times are within the minimum threshold.
The State of OPM's Backlog
June's numbers come less than one month after the Government Accountability Office (GAO) released a comprehensive report summarizing challenges OPM has faced for the last several years in addressing the backlog. With an inventory backlog consistently around or over 20,000 and processing times often above the 60-day threshold, GAO laid out an action plan for improvement.
The report identified three major issues OPM needs to address including a failure to modernize IT systems and move away from paper-based applications, an inability to meet staffing needs especially during peak months, and the number of errors and incomplete applications received from agencies.
Despite some efforts on OPM's part to address these issues in the past, GAO identified six things the agency could do better, as well as specific recommendations to improve already implemented measures.