EconSys assisted the Women's Bureau of the Department of Labor (DOL) in developing new technology to more efficiently create, update, and share key monthly data updates from the Bureau of Labor Statistics (BLS). The widget replaces old methodologies of manually creating chart individually, proving to be a much more effective way to visualize and share labor statistics.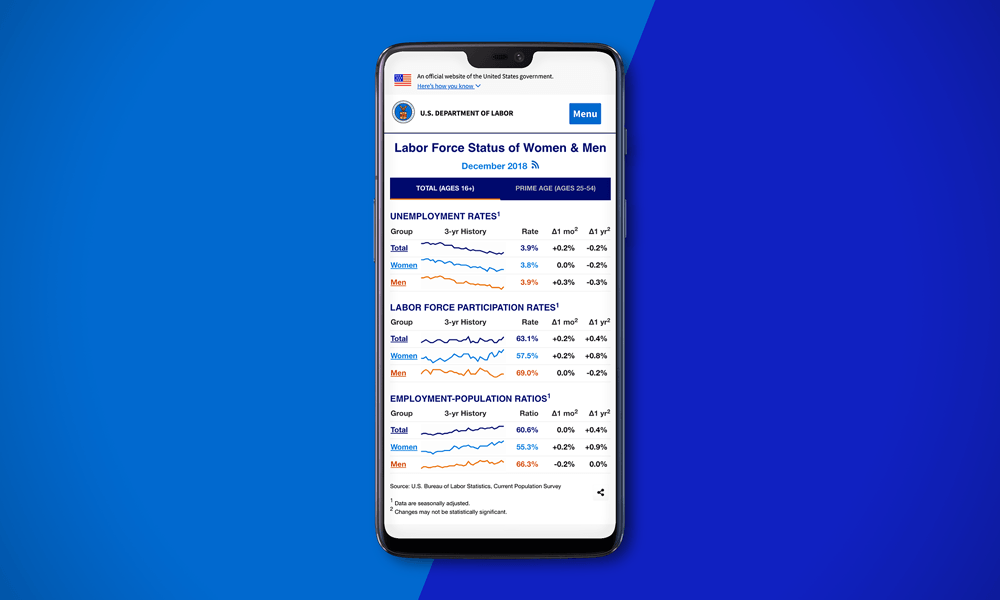 The Women's Bureau requested a proposal for the development of a widget that could be embedded on the department's website, and would automatically update every month as the BLS report was released. The widget could also be shared, or embedded on other websites that needed to share or discuss the data as it was released each month.
>>> Download the full project synopsis to learn more.
Why Did the Department of Labor Choose EconSys?

The widget was intended to be hosted on the Women's Bureau website, and as such, it needed to be Section 508 compliant and also meet the hosting requirements specified by the Department of Labor (DOL). This required partnering with a developer with a comprehensive understanding of these requirements and a history of being flexible in adjusting project requirements to meet them.
The Women's Bureau selected EconSys to build out their application for a variety of reasons that included:
Reasonably Priced

Accessible

Mobile Friendly

Created Within A Tight Deadline of 3-6 Weeks
Our Solution

Econsys developed a widget that displayed the desired key metrics as well as spark lines (small graphical lines that indicate data trends in tables) in a Section 508 compliant and mobile-responsive design. The final designs and layout were the results of several weeks of iterative hands-on feedback sessions internally and with our clients at Women's Bureau.
EconSys worked carefully with IT stakeholders to determine what was needed by DOL to understand, host, and maintain the resulting product. To aid in ongoing maintenance and continued improvement, our team frequently refactored the code base, an agile development technique, to help ensure the code was easily understood, readable, and maintainable by future developers of the widget.