EconSys worked with The U.S. Department of Veterans Affairs (VA), Veteran's Health Administration (VHA) on its Orthotic and Prosthetic Services (OPS) program. The Government Accountability Office (GAO) had recently released reports identifying several issues that OPS needed to address to better meet the needs of the Veteran population it serves. EconSys' study analyzed the current demand for OPS in the VA workforce and evaluated where gaps might exist, both today and in the future. We also reviewed the program outcomes and the overall cost structure, ultimately providing several recommendations.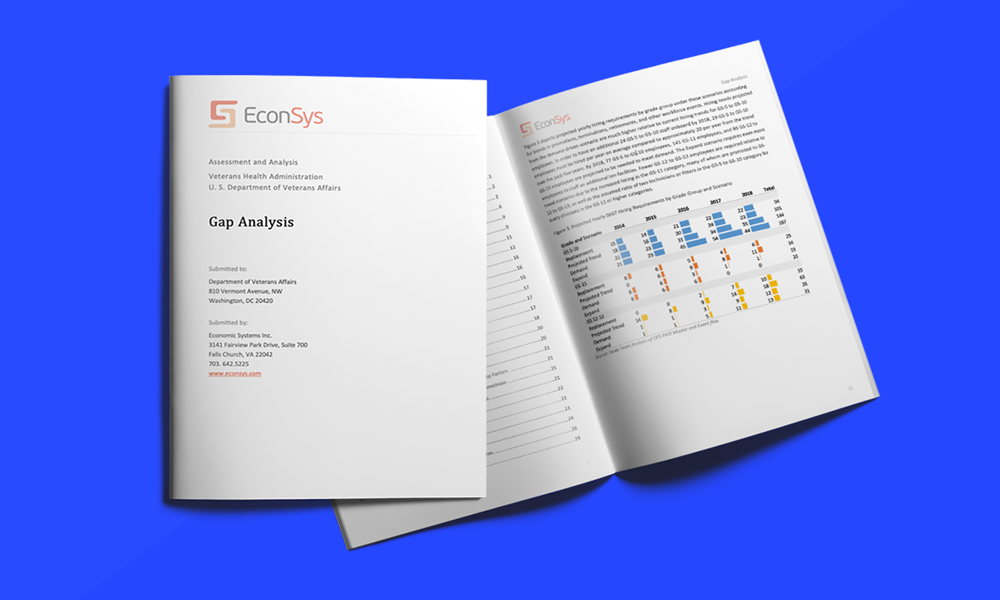 The GAO and VA Inspector General (IG) identified several issues in the OPS program that required more in-depth evaluation. EconSys worked to answer questions around Veteran satisfaction levels, the approval process for prosthetic services, staffing levels and the impact they have on external contractor reliance, and potential restructuring of VA facilities.
Why Did the Department of Veterans Affairs Choose EconSys?
Because of the complex nature of OPS operations and the reliance on third party contractors, a partner was needed who could evaluate a series of complex issues to determine the best course of action. EconSys had worked previously on congressionally mandated studies of VA benefits programs and understood the complexity of the undertaking. We were able to provide our team's experience and expertise in the fields of:
Statistical modeling

Econometrics

Program Evaluation

Workforce Planning
EconSys leveraged the newest technology and resources available to produce interactive analyses and reports that provided a greater, more accessible level of understanding.
>>> Learn how EconSys delivered a workforce planning report to better understand Orthotic and Prosthetic needs at the VHA.
Our Solution
EconSys determined that a simple workforce planning report would not be sufficient for OPS to effectively address the issues that the GAO's report had identified. Instead, EconSys used a multi-step process that evaluated current cost estimation procedures, the performance metrics being used by OPS, and the following workforce planning assessments:
Needs Assessment

 – We analyzed the historical utilization and projected need of OPS services. This identified a significant increase in patient encounters over a three-year period and a better understanding of where those encounters took place.

Workforce Assessment

 – We evaluated VA workforce capabilities and third-party support services to identify the accuracy of hiring targets and current hiring demand.

Cost Analysis

 – We determined the best strategies for in-house care versus contracting to third parties, helping guide decisions on what could be completed in local facilities.

Gap Analysis

 – We addressed several questions around facility location, urban vs rural distribution of services, and the services and staff needed in each location.
The final analysis mapped out the projected changes in both inflow and outflow of the workforce based on retirement, separation and hiring rates under several different scenarios.